August 29, 2008
Volume 1, Issue 3
---
Feature Article
Look Out For Monty Python Fluxx!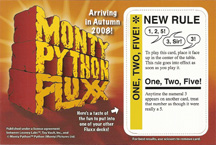 The craziest version of Fluxx ever is about to arrive! Yes, IT'S a MONTY PYTHON version of FLUXX! Officially licensed and everything! It's funnier than a flying cow and it's arriving in late-September!
To celebrate and promote this momentous event, we've made a new promo-card postcard, featuring one of the most popular new cards that will be featured in the game: One, Two, Five! which is a New Rule that changes any 3 appearing on a card into a 5!
As we did last year with a trio of mailings promoting Zombie Fluxx, we'll be mailing out this postcard (with built-in punch-out sample card) to everyone on our mailing list. Therefore, if we have your address, you'll be getting one of these cards soon! (And if it you don't get one in the mail next week, you can order one through our website!)
Also, since we're now just a few weeks away from the arrival of Monty Python Fluxx, we are now accepting pre-orders for the game! As always, we encourage you to support your Friendly Local Game Store by getting them to pre-order it for you (visit roster.looneylabs.com to find a store near you), but if you're planning to shop online, please get your copy from us!
As you might imagine, besides working out all the royalty agreements necessary, the biggest challenge in creating this new version of Fluxx was in choosing what elements of Monty Python lore to include. That wacky group of guys created a vast number of hilarious characters and such in their TV shows & movies -- how to squeeze it all into a single deck of cards? It's impossible of course, so you have to choose just a few of the best, funniest, and most well known bits. Even that was very difficult, but we decided the best approach was to focus on what we consider the best known and funniest of their works, namely Holy Grail, but to work in as many little references to other works as possible. This seems to have worked out really well -- our playtesting results suggest that this could be the most popular version of Fluxx we've ever made!
Go to http://fluxxgames.com and look for a link to sample cards to get a glimpse of a few of the cards you'll find inside, and don't miss this month's survey (see below), which reveals 6 others.
And whatever you do, don't expect the Spanish Inquisition!
---
Trivia Question
Earlier this summer, Looney Labs won their sixth Origins Award, when Zombie Fluxx was named Best Card Game of 2007. (Woo-hoo!)
What was the company's FIRST Origins Award winning product?
Scroll down to see the answer.
---
Current Online Specials
Visit LooneyLabs.com to find out how to get a FREE Computer promo card (can be used in any version of Fluxx), FREE Flowers & Fluxx, or a FREE Purple Game Bag which you can use to hold all your Looney Labs games.
---
Ask Andy
Q: How does the New Rule "One, Two, Five!" interact with the "Inflation" rule?
Andy's answer: "They contradict each other. Since the Inflation rule changes all numerals (by adding 1) and One, Two, Five! also changes numerals (by changing 3s into 5s), these two rules just don't play nicely with each other. Therefore, if you add One, Two, Five! to a deck containing Inflation, and they both get played, the first of the rules played must be discarded when the second rule goes onto the table. (It's like when a Draw 5 rule is replaced by Draw 3)."
---
Survey of the Month
Who's your favorite Python?
Take the Survey! We'll post the results in our next newsletter.
---
Results of Last Issue's Survey
Our question last time was: Which do you think is the MOST important thing to include in your Zombie Uprising Home Defense Kit?
The winner was: The Shotgun!
Here are the results of the 206 votes cast:
1) Shotgun - 25.7%
2) Flamethrower - 16.0%
3) Provisions - 13.1%
4) Baseball Bat - 12.6%
4) Towel - 12.6%
6) Shovel - 11.2%
7) Box of old vinyl records 6.8%
8) Can of gasoline - 1.9%
SPEAKING OF FLAMETHROWERS...
Despite only winning second place in our survey, we think a Flamethrower would be darned useful against a Zombie attack -- so much so that we created a special new Flamethrower card! And we made up a bunch of fun new Zombies to go with it!
The Flamethrower is a Keeper. Once in play, you can use it to destroy any Creeper in front of you at any time during your turn! Plus it counts as a Can of Gasoline! As for the new Zombies that come with it, there's a Waitress, a Football Player, an Army Guy, a Ballerina, a pair of Boy Scouts, and a Candy-Striper with a Lady in a Wheelchair. All the artwork was done by the original Zombie Fluxx artist, Derek Ring, and as usual he did a great job!
You can get the Flamethrower pack for just $2 at any participating Looney Labs SuperStore -- or FREE with any purchase over $10. Visit our online roster of retailers to find the LL SuperStore nearest you!
---
Trivia Question Answer
The first Origins Award received by Looney Labs was for Icehouse: The Martian Chess Set, named Best Board Game of the Year at Origins 2001. (Chrononauts also won an Origins Award that year, but the Icehouse award was presented first.)
---
Thanks for Playing Looney Labs Games!