Stoner Fluxx
Gather Your Friends Together – It's Party Time!

Put on some good music and line up some snacks... Stoner Fluxx is a game about toking with your friends, getting the munchies, and changing the rules. The game has four copies of the Weed Keeper, so there will be plenty to go around, plus plenty of food Keepers like Pizza, Nachos, and Brownies. The goal of the game will constantly be in fluxx - with goals like Party Time, Snack Your Way to Victory, and of course Special Brownies.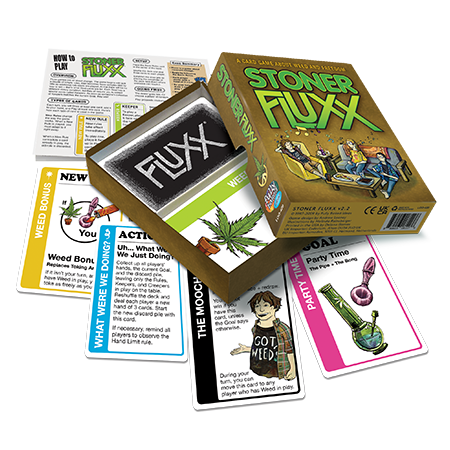 Game Play

It all begins with one basic rule: Draw one card, play one card. You start with a hand of three cards, add the card you drew to your hand, and then choose one card to play, following the directions written on your chosen card. As cards are drawn and played from the deck, the rules of the game change from how many cards are drawn, played, or even how many cards you can hold at the end of your turn.
Expansions

Secret Stash Pack: This is a set of 4 new cards for Stoner Fluxx. Two are new Keepers and two are Goals; the Hash counts as Weed. These cards were created to use as give-away at legalization festivals, encouraging attendees to collect all four to add to the game being sold at a vendor's table.
Secret Stash Pack Card List:
Keepers: Hash and Secret Stash

Goals: Stash of Hash and Hash Pipe







Reviews