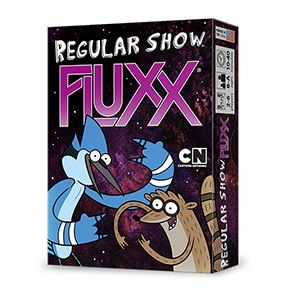 Regular Show™ Fluxx
The Card Game with Ever-Changing Rules!
Looney Labs teams up with Cartoon Network to create the most irregular version of Fluxx yet. Join Mordecai, Rigby and the whole gang. Do your friends a solid and distract the Destroyer of Worlds to save The Park… but don't let Benson catch you doing donuts or you're fired!
#1 show among boys 6-11 and #2 among

boys 9-14 in primetime for all of 2013*
Fluxx is an evergreen title with over

1 million units sold
Multiple promo cards and items lined up

for product release
© 2014 Looney Labs. TM & © 2014 Cartoon Network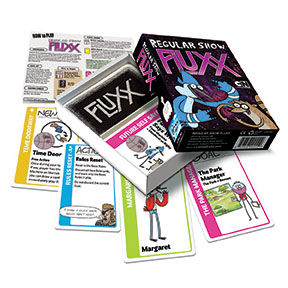 Game Play
It all begins with one basic rule: Draw one card, Play one card. You start with a hand of three cards... add the card you drew to your hand, and then choose one card to play, following the directions written on your chosen card. As cards are drawn and played from the deck, the rules of the game change from how many cards are drawn, played or even how many cards you can hold at the end of your turn.
Reviews