Mary Engelbreit Loonacy
The maniacal matching card game!
Known for her spirited, witty, and whimsical calendar and greeting card illustrations, Mary Engelbreit's artwork now brightens the cards of our latest version of Loonacy! This version features some of Mary Engelbreit's most beloved works in a fast-paced matching game that's fun for all ages. When Mary Engelbreit and Looney Labs join forces, the result is truly magical!
© Mary Engelbreit Enterprises, Inc. All rights reserved. www.maryengelbreit.com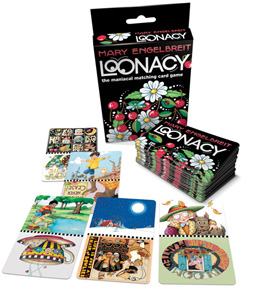 Game Play
Loonacy is a rapid fire game where players race to be the first to empty their hand by matching one of two images with the images on the open piles in front of them. It's easy enough to teach in a single sentence, and so addictive you can't play just one game.
Reviews