Jumanji Fluxx
Jumanji Fluxx reminds you just how chaotic and dangerous the world of Jumanji can be! Watch out for all-new Danger cards that eliminate players! You might be able to jump back in, but if the deck runs out, elimination becomes permanent. If you want to survive you'll have to carefully traverse the landscape, gathering the right gear and avoiding the many wild animals. Be prepared, or risk getting eliminated... remember, it's not just a game! This game includes a collectible coin (and seven bonus cards**).
TM & © 2019 Columbia Pictures Industries, Inc. All Rights Reserved.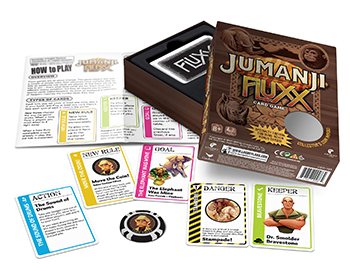 Game Play
It all begins with one basic rule: Draw one card, play one card. You start with a hand of three cards, add the card you drew to your hand, and then choose one card to play, following the directions written on your chosen card. As cards are drawn and played from the deck, the rules of the game change from how many cards are drawn, played, or even how many cards you can hold at the end of your turn.
Reviews