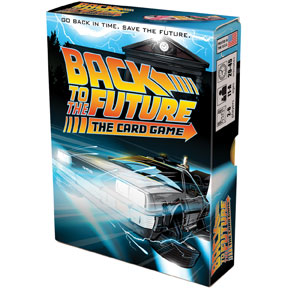 Back to the Future: The Card Game
Go Back in Time. Save The Future.
Now you can jump into the action of the Back to the Future movies, with this ingenious new time travel card game! Your mission is to make sure pivotal events are not changed by other time travelers before time travel itself gets un-invented. Using a unique, patented game mechanic for simulating time travel, Andrew Looney now puts you in the driver's seat of the famous DeLorean!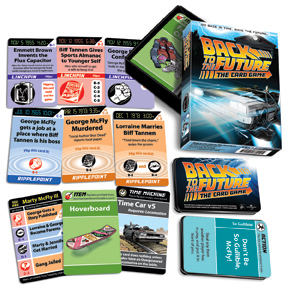 Game Play
In this game you are a time traveler, a descendant of one of the characters in the Back to the Future movies. Unfortunately, other time travelers have been tampering with events in your past, endangering your very existence. You must put things back in the ways that seem right to you, then stop Doc Brown from ever inventing time travel, which will freeze reality the way you need it to be, once and for all. The game is played entirely with cards, but has the feel of a board game since important events are represented by a special grid of 24 cards called the TimeLine.
Back to the Future is a trademark and copyright of Universal Studios and U-Drive Joint Venture. Licensed by Universal Studios Licensing LLLP. All Rights Reserved.
Reviews