Around the World Fluxx

Travel the world! The ever-changing card game is setting its sites on famous landmarks around the globe. Discover wonders across all 7 continents - it's got everything from Stonehenge to the Taj Mahal, including the Galápagos Islands, Panama Canal, Angkor Wat and, of course, the Statue of Liberty. Perfect for vacationers or armchair travelers, Around the World Fluxx offers a bonus mini timeline game and can be combined with Across America Fluxx for double the bucket list fun!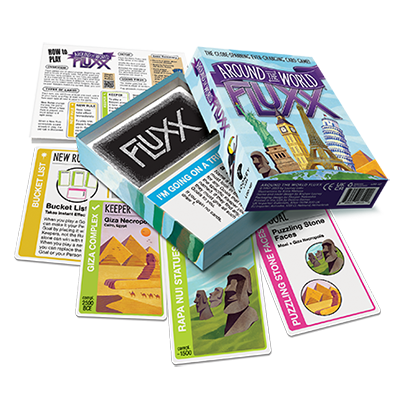 Game Play
It all begins with one basic rule: Draw one card, play one card. You start with a hand of three cards, add the card you drew to your hand, and then choose one card to play, following the directions written on your chosen card. As cards are drawn and played from the deck, the rules of the game change from how many cards are drawn, played, or even how many cards you can hold at the end of your turn.
Reviews