Anatomy Fluxx
Gamer Tested, Doctor Approved.
Anatomy Fluxx takes you deep into the human body. From Bones to Blood Vessels, Anatomy Fluxx is packed with all the body bits that keep you ticking. But be on the lookout for Virus, Mutation, and Bacteria Creepers! Plus, two Learning Rules will get your Brain in gear with anatomical trivia. Anatomy Fluxx - for external use only!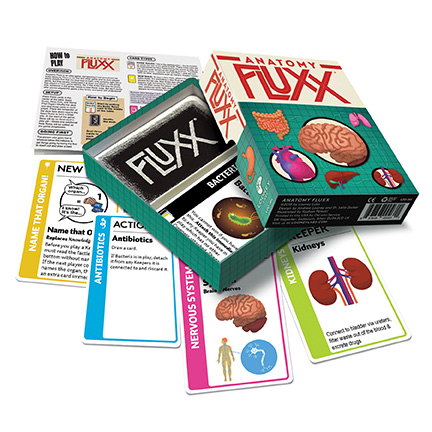 Game Play
It all begins with one basic rule: Draw one card, play one card. You start with a hand of three cards, add the card you drew to your hand, and then choose one card to play, following the directions written on your chosen card. As cards are drawn and played from the deck, the rules of the game change from how many cards are drawn, played, or even how many cards you can hold at the end of your turn.
Reviews