Looney Labs is releasing 6 new foil wrapped expansion packs on August 2, 2018.
---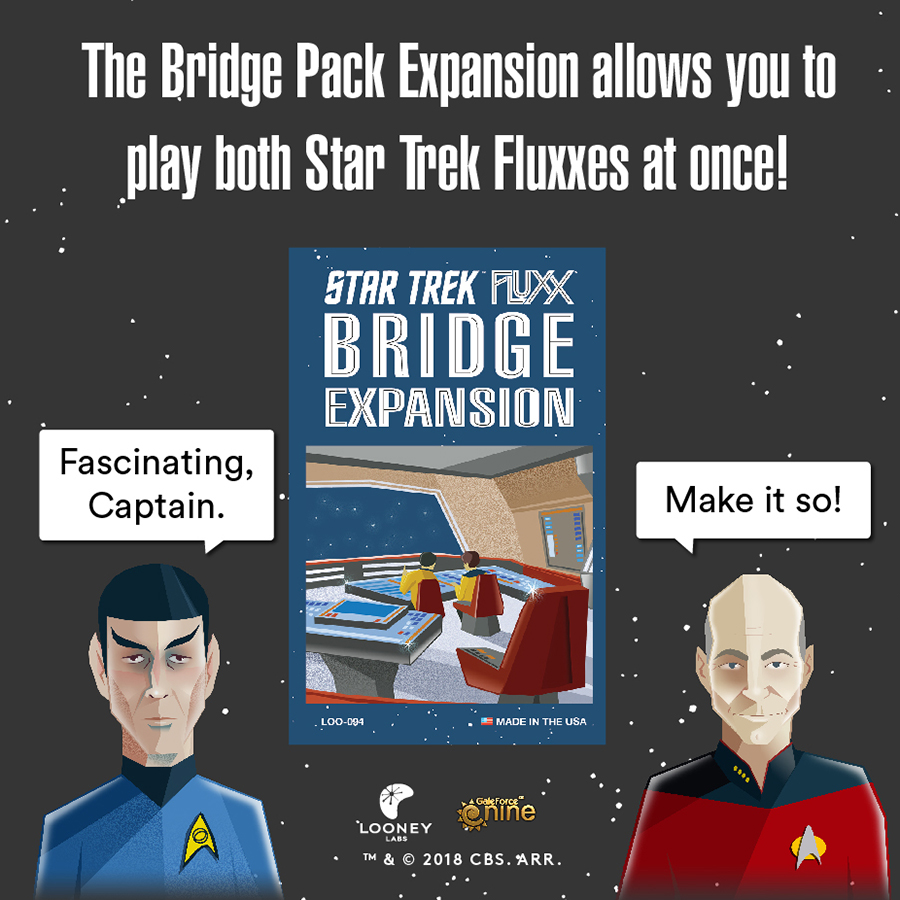 NAME = Star Trek Fluxx Bridge Expansion
Want to shuffle your Star Trek Fluxx together with your Star Trek: TNG Fluxx? Great! We designed them to be combined! And the 12 Bridge Pack expansion cards make it even better. The Bridge Keeper lets you take control of either Enterprise, and a host of new Goals let Kirk meet Picard, Spock meet Data, and the Past meet the Future!
SKU = LOO-094
UPC = 857848004758
MSRP = $5
DATE = August 2, 2018
---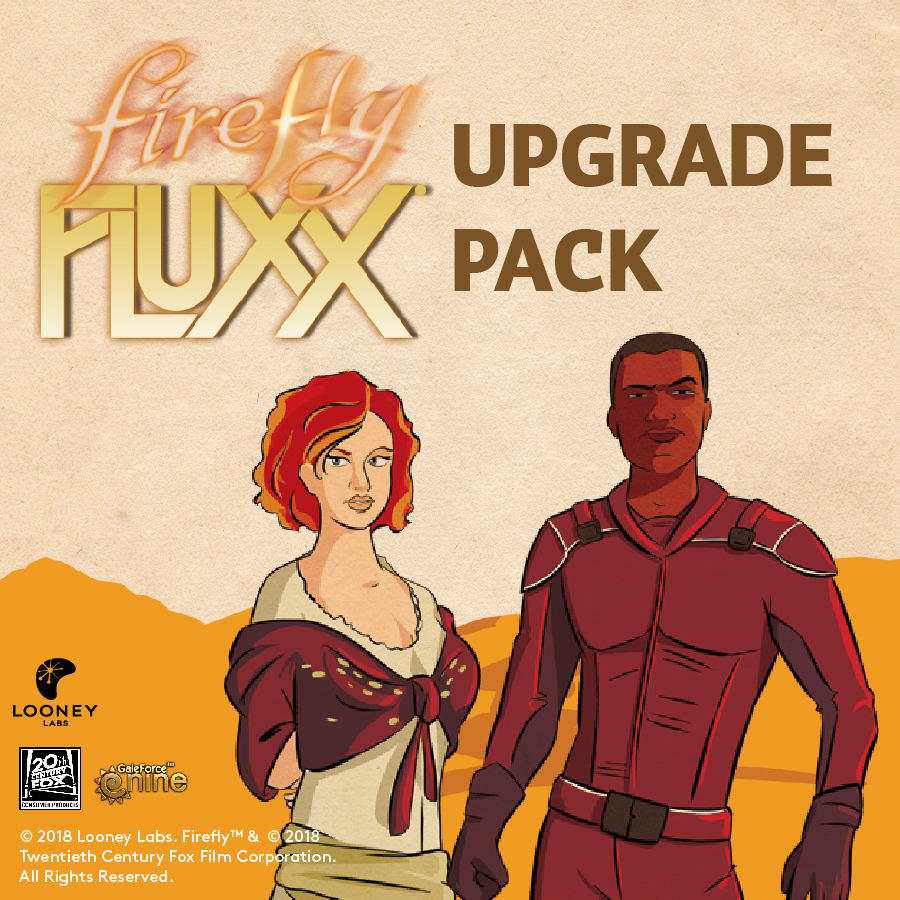 NAME = Firefly Fluxx Upgrade Pack
Mal's crew aren't the only ones aimin' to misbehave. Now you can add Yolanda (aka Saffron, aka Bridgett) and Jubal Early to your Firefly Fluxx adventures! These two new Keepers come with six new Goals that require them. Also included are new copies of the Reavers and Hands of Blue, now with upgraded abilities!
SKU = LOO-092
UPC = 857848004734
---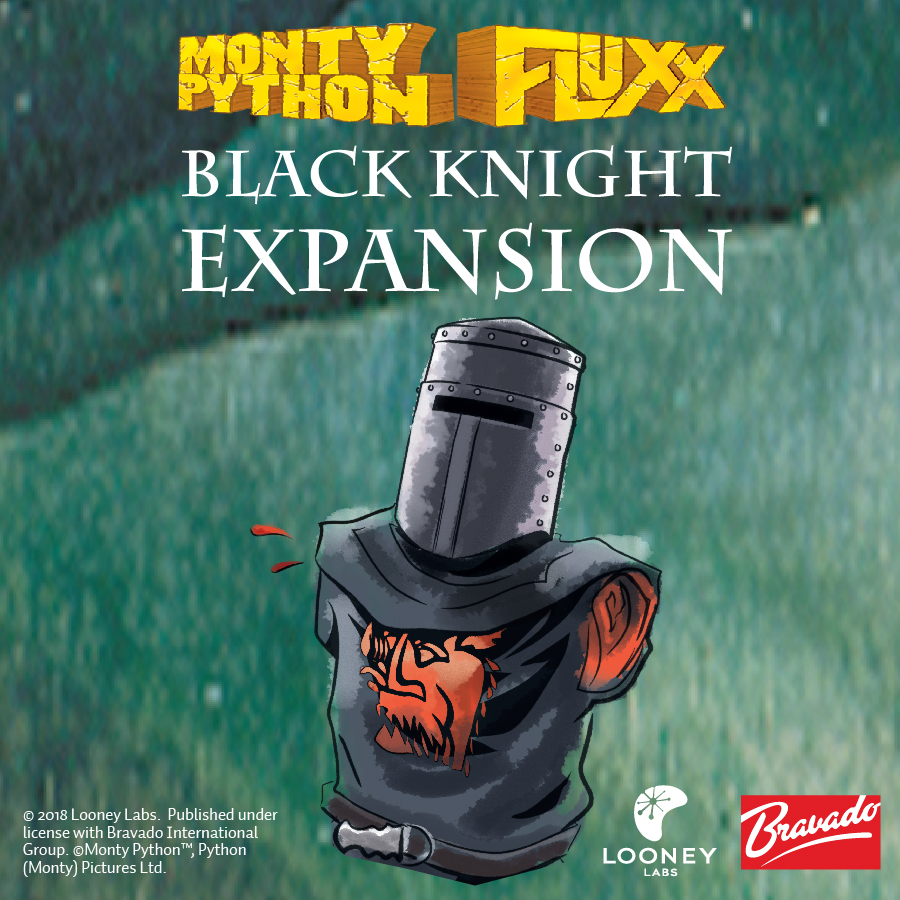 NAME = Black Knight Expansion
NONE SHALL PASS! Now at last the Black Knight will start making an appearance in your games of Monty Python Fluxx! This Creeper is so in-your-face that NOBODY can win if he's in play… unless, of course, one of the 6 new Goals in the set requires him. He's joined by another oft-missed character, Tim the Enchanter! Tim causes things to explode! The 10 card pack even includes a couple of New Rules including It's A Quest!
SKU = LOO-091
---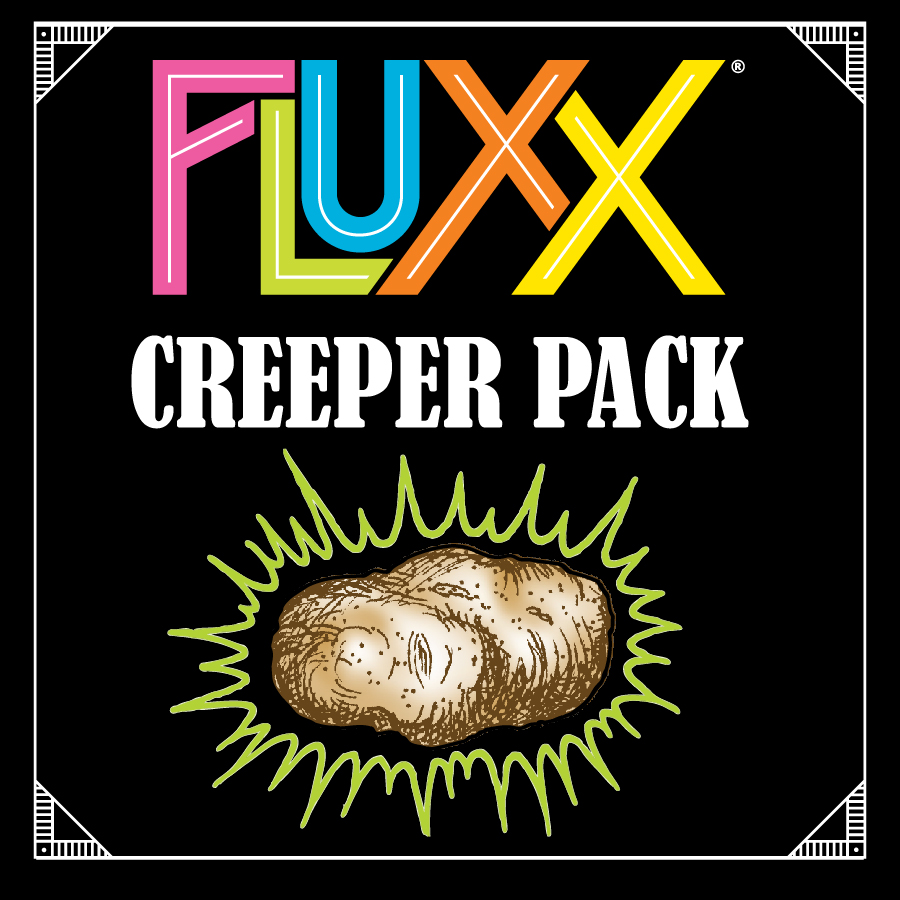 NAME = Creeper Pack
Version 4.0 of Fluxx introduced Creepers to the basic game, but these cards were dropped again when Fluxx 5.0 was published. This left War, Death, Taxes, and the beloved Radioactive Potato unavailable. But now they're back, along with Goals, Actions, and New Rules relating to these particularly intense Fluxx cards!
SKU = LOO-090
MSRP = $5
DATE = August 2, 2018
---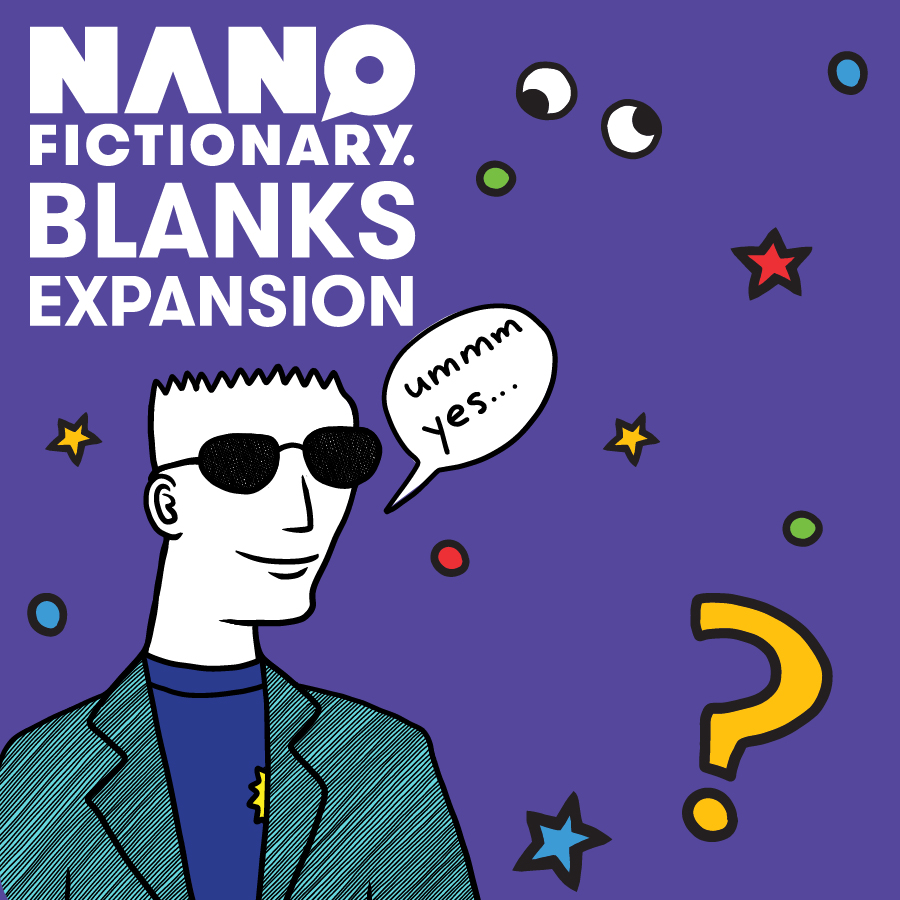 NAME = Nanofictionary Blanks
The card game of telling tiny stories is all about making up your own fun tales… so what could be better than creating your own custom cards to add into the mix? Nanofictionary was even designed to accommodate such creativity…the game was deliberately illustrated with simple, black and white line drawings so that they'd combine nicely with homemade cards and hand-doodled illustrations. Now, with these blanks and a permanent marker, you can let your imagination go wild!
SKU = LOO-089
MSRP = $5
DATE = August 2, 2018
---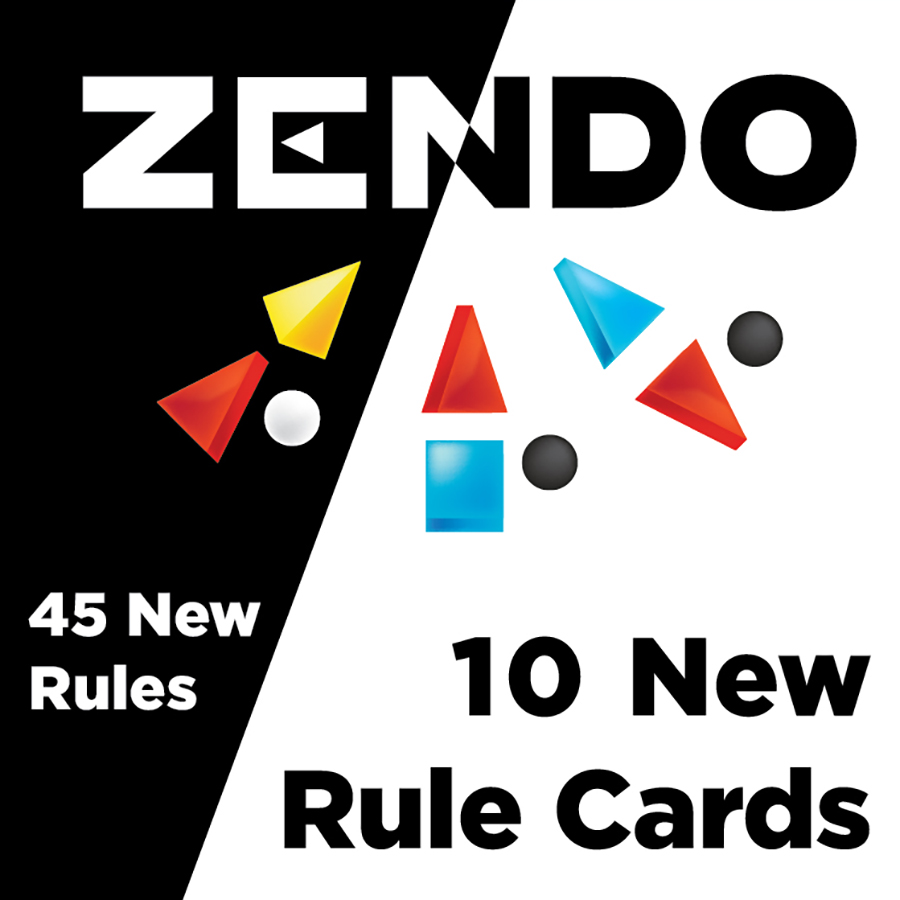 NAME = Zendo Rules Expansion #1
Zendo comes with 40 rule cards that generate over 200 unique rules. That'll keep players guessing for a long while, but when you're ready for more, here's a set of 10 all-new secret rule cards: one rated as Easy, four as Medium, and five as Difficult. These cards will generate 45 different rules, but don't let anyone read these cards until someone is ready to moderate a session. The fun is in figuring it out, so please keep the secret rules secret!
SKU = LOO-095
---
Looney Labs also has 4 foil wrapped expansion packs already in print!
---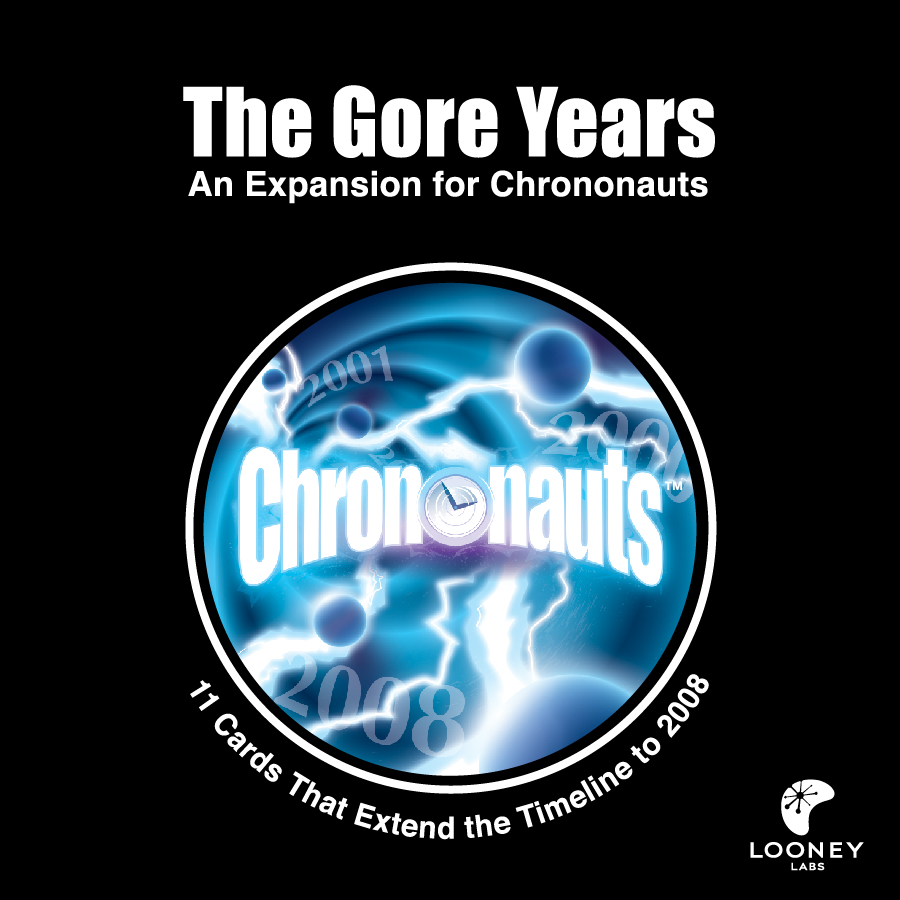 NAME = The Gore Years
The early years of the 21st century have been known as the Bush years, but to some time travelers, they were actually called the Gore years... This 11-card expansion pack brings your timeline alternatives up to 2008! Find out what might have happened if the 2000 election had gone a different way! Prevent the 9/11 attacks! The Gore Years has five new timeline cards, three patches, and three new Identities that depend upon the new events. Expand your travels through time!
SKU = LOO-041
UPC = 857848004765
MSRP = $5 <-- this is a new price, was $3
DATE = reprint available Aug 2nd
---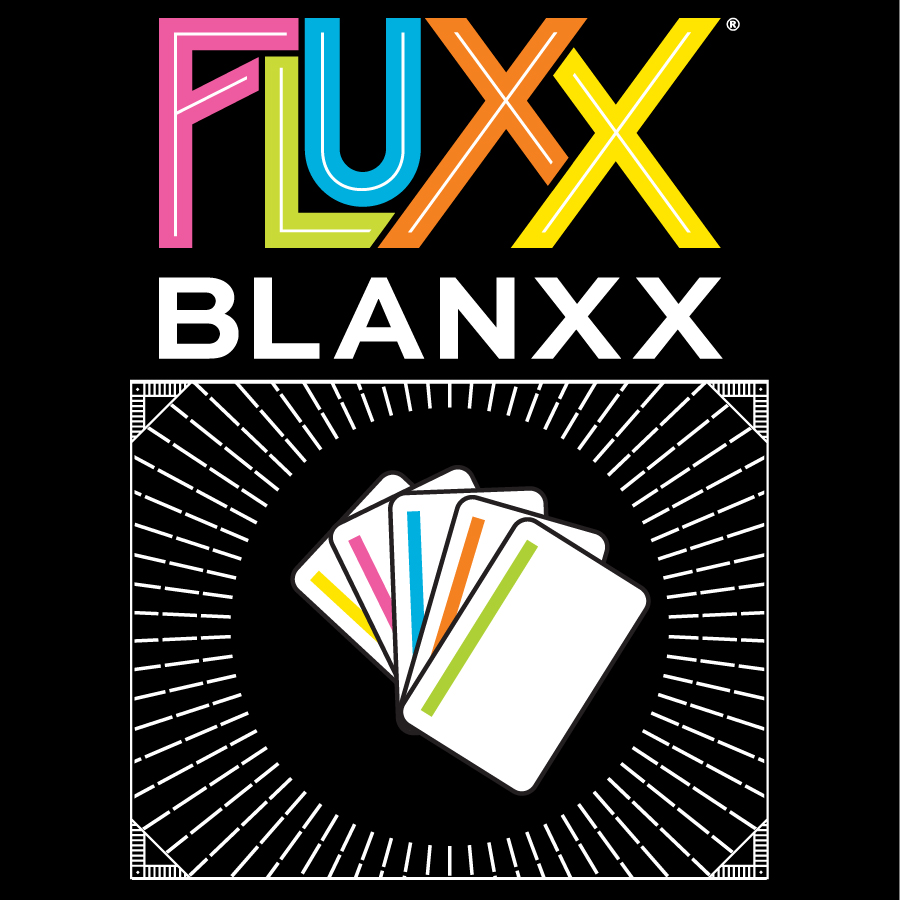 NAME = Fluxx Blanxx
Now you can add your own zany ideas to the crazy game of Fluxx! Our most recent version of Fluxx Blanxx contains ten cards: 2 Keepers, 1 Creeper, 4 Goals, 1 Action, 1 New Rule, and 1 Surprise. Cards are in the new style with just the stripe of color. Card backs for all Fluxx games (except for international versions) match, so you can use these in any deck. Just grab your trusty permanent marker and customize the fun!
SKU = LOO-012
UPC = 857848004345
MSRP = $5 <-- this is a new price, was $3
DATE = already in print
---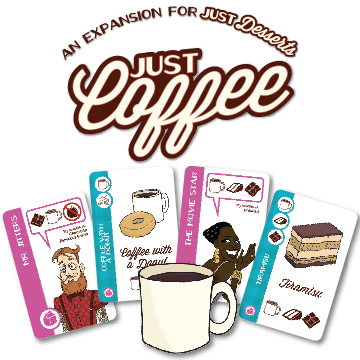 NAME = Just Coffee
Just Desserts, Looney Labs' hit game of serving sweets, amps up the energy with ten new caffeinated cards. Just Coffee features six new edibles, from Tiramisu to Chocolate Covered Espresso Beans, and four new customers including the shaky but very enthusiastic Mr. Jitters. This expansion proves that sometimes the best thing to have with your Just Desserts is Just Coffee!
SKU = LOO-075
MSRP = $5
DATE = already in print
Packaging = foil pack / 10 cards
---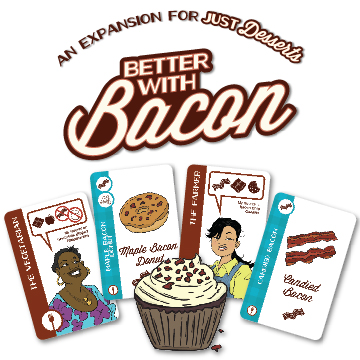 NAME = Better with Bacon
Everything is Better with Bacon, even Just Desserts! Looney Labs' hit game of serving sweets brings a little savory into the mix with this 10 card expansion pack. Better with Bacon features six new edibles (Bacon Chip Cookies, Maple Bacon Donuts, Chocolate Dipped Bacon, Bacon Ice Cream, Chocolate Bacon Cupcakes, and Candied Bacon) and four new customers (Abraham Bacon, The Vegetarian, The Farmer, and Kevin). This expansion proves that Just Desserts is definitely Better with Bacon!
SKU = LOO-076
MSRP = $5
DATE = already in print
Packaging = foil pack / 10 cards
---
NOTE: We are not making a demo/marketing kit for these products.
NOTE: We are setting a Delivery Date on these items 2 days before Street Date.
Distributors:

it is ok to send this to stores a little early, so they are sure to have it ready for sale on street date - but please make sure you promote the Street Date as the date they can start selling the game!
Retailers:

please don't sell it until the street date if you get it early!
---