DOCTOR WHO FLUXX
The Card Game of Ever-Changing Doctors!
Doctor Who Fluxx takes Fluxx through Time And Relative Dimension In Space. Join with various regenerations of the Doctor, some companions, Gallifreyan tech, and K-9 (but beware of Cybermen, Daleks, Weeping Angels, and the Master) and play the most ever-changingest, timey-wimey version of Fluxx ever created. Doctor Who Fluxx: you'll play it time after time after time after time...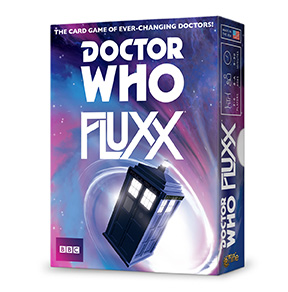 NOTE: We will not be making the War Doctor promo that Kristin has been talking about as part of this launch - we do not want to slow anything down this close to the holidays. Look for promo cards for Doctor Who Fluxx next year!
NOTE: We are setting a Delivery Date on this item 2 days before Street Date.
Distributors:

it is ok to send this to stores a little early, so they are sure to have it ready for sale on street date - but please make sure you promote the Street Date as the date they can start selling the game!
Retailers:

please don't sell it until the street date if you get it early!
---
BBC, DOCTOR WHO (word marks, logos and devices), TARDIS, DALEKS, CYBERMAN and K-9 (word marks and devices) are trade marks of the British Broadcasting Corporation and are used under licence. BBC logo © BBC 1996. Doctor Who logo © BBC 1996. Dalek image © BBC/ Terry Nation 1963. Cyberman image © BBC/Kit Pedler/Gerry Davis 1966. K-9 image © BBC/Bob Baker/Dave Martin 1977.