Don't miss out - Sign Up TODAY!
Looney Labs offers a Subscription Service for retailers to automatically receive Launch Kits for each new Looney Labs release. Make sure you never miss out on our marketing kits again! This new subscription service is available from your distributor (ACD, Alliance, Lion Rampant, Esdevium) or direct from Looney Labs!
Our Latest Release: Loonacy
Still Available - Choose One Launch Kit
Always Available - Looney Pyramids Kit
The board game Launch Kit will contain the game and a poster and will be available to retailers at the extra low price of $8.
Our card game Launch Kits contain a demo copy of the game, 25 promo card postcards, a poster, a playmat, and a limited edition challege coin commemorating the launch of the game.
Here is the Challenge Coin for Cthulhu Fluxx: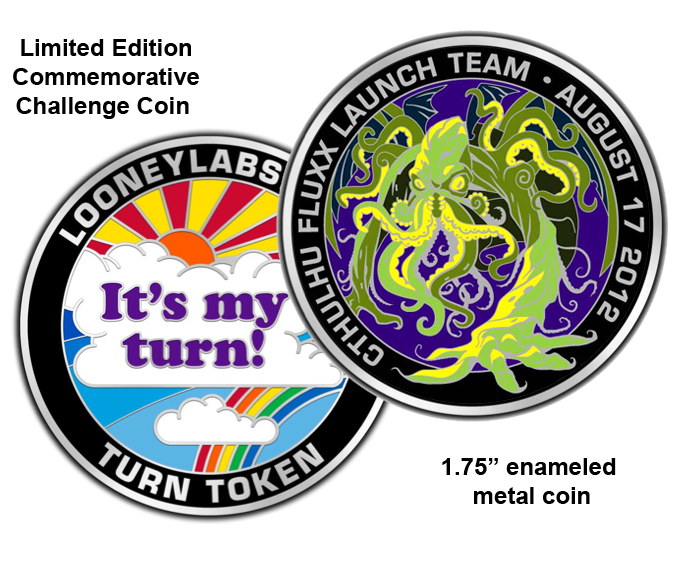 This coin comes with your launch kit! Keep the coin for yourself, or give it to your best demo person. The person who receives the coin is officially a member of the Cthulhu Fluxx Launch Team. The coins are only available in Launch Kits, and only one kit is available per store through your distributors, so if there is more than one person in your store who simply MUST have one of these coins, they can join our Demo Team and purchase a kit for themselves for $20 while supplies last.
---
NOTE: With the launch of the Subscription Service, we're doing away with the X-displays (the full six game display with Free Demo Copy that used to be available on launch). Retailers can now get demo copies through distributors or from Looney Labs in two different ways:
Purchase a Demo Kit: you can sign up for the subscription service or order individually with each new product launch (available while supplies last, if you're not a subscriber), or ...

Buy demo copies of any of our games at 70% off MSRP either through your distributor or direct from Looney Labs.
---
Thanks for promoting our games!
What Retailers say About Our Marketing
"These kits are incredible. The opportunity to obtain quality promotional material in advance of release helps us implement professional marketing campaigns in store and effectively generate interest and sales around the release of each product. I wish every publisher had a program like this to allow us to best feature new and upcoming titles." - Dan Yarrington, Myriad Games
"Our customers really enjoy getting the promo cards as a preview and as a "look what I got!!!" It also helps sales and makes customers happy." - Sherri McGuire, Boardwalk & Park Place
"The Demo Kits are a great, simple way to introduce staff and customers to the new games. Keep them coming!" - Shane Alan, Just Awesome
"The kits represent good value for money and certainly encourage more sales. The convenience of being able to get a demo copy of the game (which we would usually do in any case) plus promotional material in one pack makes sense." - Darrell Ottery, Eclectic Games
"Ever since we started getting the Looney Labs demo kits, we've seen a substantial increase in our sales of Fluxx and the newer Looney Lab releases. Many of our customers will play the games while waiting in the store for friends to show or tournaments to start, and then buy a copy to take home and play later. These kits have been more successful for us that we had thought." - Joe Becker, The Gamers Den
"Any store that carries Looney Labs products would be "LOONEY" for not getting the Demo Kits. They help sell product......period! Great Job in your marketing research. It makes carrying your product in our store a pleasure. And even more of a pleasure when we re-order over and over again." - Patty Pettit, Game Depot
"Those posters are awesome, Man. We put 'em in the windows and that really sparks interest. Also, we have an open copy of the game out, which we show to people who then put in an order. We also love playing the games with people, 'cause that makes them wanna buy 'em more." - Shana Hack, Moon Rabbit Toys
"I use the marketing materials in the Looney Labs Demo Kits to draw attention to the games. Once they are noticed, the games tend to sell themselves. The promotional cards are a nice incentive and build a great repeat customer base." - Charles Brubaker, That Game Place
"We run a family game night every week. Demo copies of games are an excellent tool for customers to try out a game before they buy it. Many times a customer will end up buying a great game that they never would have bought simply because we had an open demo copy out on display." - Nick May, Uncle's Games
"As much as we all feel everyone should know Fluxx, there are some that may have been living in a cave. The Monty Python demo-deck allowed us to not only showcase the fun-play that this set introduced to the Fluxx fans, it allowed Python fans to see just how awesome a Python game could be. 4 full displays sold of Monte Python Fluxx; and more of Zombie Fluxx - all due to having a demo copy to showcase the game(s)!" - Robert J. Guadagno, New Moon Comics
"Using the sign up sheet has been a great tool. I've been able to sell multiple copies of the different Fluxx games because the sign up sheet has been a great talking point!" - Ernest Bourne, Fongo Bongo Games